Best way to heal eczema naturally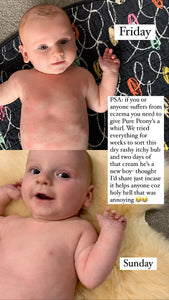 Here's our simple guide on how to use the Pure Peony range to heal eczema prone skin naturally.
Step 1 – Clean and soothe
Start the healing process and reduce the itching with  Pure Peony Healing Body Bar 
Safe for all ages, use on face, hands and whole body.  Use everytime you wash your hands, shower/bath.  This is a 'soap' even kids with eczema can use!
Adults and teens can use Pure Peony Healing Shampoo Bar to wash your hair (great for dandruff control too).  Wash the bar directly onto wet hair, lather up, rinse out thoroughly.    This is also great for cradle cap but make sure the shampoo doesn't get in babies eyes as like most shampoos it can sting a little bit.
You can also use our Healing Hair Conditioner Bar (particularly good for long or curly hair and if you are used to a conditioner).  Use the same way as the shampoo bar after you have washed the shampoo out.  Rub directly onto scalp, massage in, then rinse out.
Step 2 – Hydrate and repair
After showering if you have dry skin hydrate all over with Peony Root Moisturiser . 
Use our Pure Peony High Factor Peony Root Skin Remedy Cream  on areas that are inflamed, itchy or irritated.  This cream can be used as often as you need throughout the day and we recommend 2- 3 times a day and at least morning and night.
The Moisturiser can be used every day on very dry skin to keep irritated skin hydrated and calm. It helps maintain healthy skin.
The High Factor Skin Repair is a treatment to reduce the itch, help protect your skin from bacteria and advance the skin healing process.
For best results:
Use the full range.
Other shampoos and soaps can irritate skin and leave you itchy and inflamed.
This range works - our children and hundreds of customers use them every day on their dermatitis prone skin.
Our range is safe for babies, 100% natural, have no harsh chemicals or perfumes and are made in Nelson, New Zealand using organically certified peony root extract.