Yes we can still send out orders during a Level 4 Lockdown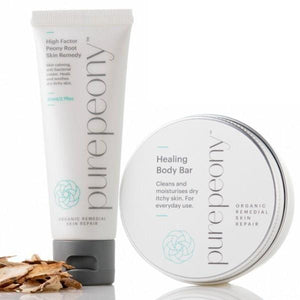 COVID-19 Lockdowns and the uncertainty and stress that comes with it affects us all.  For many of us the stress can trigger skin outbreaks and cause eczema, rosacea or psoriasis to flare up.  For others the increased handwashing or use of hand sanitizers and masks can irritate skin.  Our Healing Body Bar is a 'soap' designed for the most sensitive of skin - and was the only soap our kids with eczema could use.  Available in a handy tin you can take it everywhere you go - and the bulk 3 pack is a great way to make sure a bar is available at every basin, shower and kitchen sink!
We recommend applying the High Factor Peony Root Skin Remedy to help protect against skin irritation - it is safe to use on your face (so if the mask wearing irritates apply before you wear your mask and again when it is safe to remove your mask).   Apply it after washing your hands and before and after you use hand sanitizer.  Applying it before hand sanitizer will help protect your hands from the irritation and dryness caused by hand sanitizers.
Made in NZ, 100% natural, no nasties, not tested on animals.  Our unique peony root extract from our certified organic farm soothes and protects skin.
Stay home, stay safe and help stop the spread.  
In kindness
Dot and Georgia