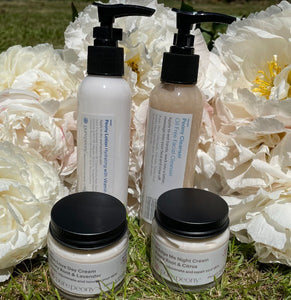 Bundle includes:

Indulge Me Night Cream 50ml
Skin Love Day Cream 50ml
Peony Cleanser 130gm
Peony Lotion 130gm
Harnessing the natural skin rejuvenation properties of organic peony root from our Nelson farm.  Cleans, hydrate and nourish your face and body with this bundle.
Great gift for yourself or for someone else!
Use oil free facial Peony Cleanser to remove impurities at the end of the day.  Use the Peony Lotion (with Vitamin E) after showering to hydrate dry, aging, sensitive skin.
Night Cream contains bergamot and mandarin essential oils - great for around eyes.
Day Cream contains lavender essential oil. 
NEW Peony Lotion is getting amazing feedback:
"I've been using the new Peony Lotion and love it...my husband loves it too. It's very refreshing, soothing and light, great for the summer.  I'll definitely buy it again" - Carla H
"I absolutely love it! It's super light weight and melts into your skin leaving it soft and hydrated.  Such a great multi purpose cream.  I especially love using it on my face as it feels like silk with no irritation at all as it's so gentle and soothing" - Julie