Eco- friendly and enviro-sustainable Pure Peony - New Glass Pots for Peony Cream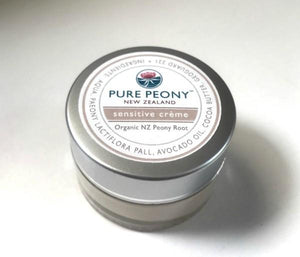 One of our key values is sustainability and we're constantly looking at ways we can improve.  We've replaced our 20ml Pure Peony Sensitive crème plastic tube with a glass pot.  These pots can be re-used and are easily recycled – and are the preferred customer option.  In our customer survey (2018, 60 respondents) 43% ranked glass as their number 1 option (the other options were tins or recyclable plastic).  Recyclable plastic received some support (44% rated it as either number 1 or 2 option) especially for those worried about glass breaking and ease when travelling – including taking it to school and in handbags.  We're working with our manufacturer to use sugar cane based bioplastic (recyclable 4) which reduces reliance on fossil fuels for production and is 100% recyclable.  We'll let you know when these are available and in the meantime the cream is available in the small glass pots or the 20ml and 80ml tubes.
Last year we also stopped wrapping our products in plastic bubble wrap and stopped using bubble bags.  All our products are now shipped using 'wood wool' and cardboard boxes - compostable and recyclable.  Since 2014 our farm has been organic – replacing pesticides and insecticides and fertilisers with organic options that improve soil and plant health, great for both our flowers and the medicinal peony root we use in our skin repair range.