Soothe eczema prone, dry or irritated skin - fast!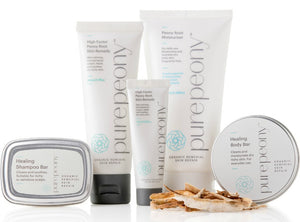 New Zealand summer holidays can be fun - water, sun, sand...and for people with eczema that can spell TROUBLE - salt water stings cracked skin, the heat makes eczema worse, pool chlorine dries and aggravates skin and grasses and pollens trigger allergies.
What we find works best for our young kids with eczema is using a barrier cream before they swim and keeping a bottle of fresh water on hand to rinse skin immediately after they get out. 
Treat and protect inflammed or irritated skin with High Factor Peony Root Skin Remedy before applying sunblock and make sure they wear light cotton clothing.  A bed side fan is a staple to help keep cool during the hot sticky summer nights - and a cool shower and all over Peony Root Moisturiser just before bed to reduce overall body temperature and keep skin hydrated.
In the Northern Hemisphere the cold and dry winter air is particularly harsh on eczema prone skin and the cold weather makes us want to wrap up warm and turn up the heat.  Too many layers, hot showers, baths or overheated rooms can make eczema even worse. 
For more information about what to use click here https://purepeony.com/pages/eczema-skin
Our best advice for eczema prone, dry or irritated skin:
Keep your skin hydrated.  Drink plenty of water and keep your skin moisturized
Avoid skin irritants (perfumes, chemicals) in moisturizers, cleaning products, shampoos, soaps, shaving cream
Wear clothing that doesn't irritate skin (cotton underneath wool or merino can prevent irritation)
Don't overheat – keep showers and baths warm (not hot) and be careful that your heating isn't too much that it drys out your skin
Avoid your triggers – certain foods, animals, dust, stress…