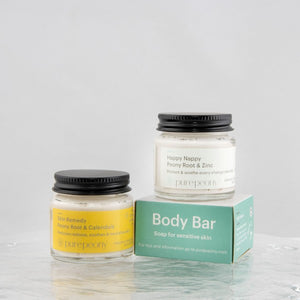 Harnessing the natural ingredients found in peony and calendula to soothe and care for babies' sensitive skin.  Designed for eczema prone skin.  A rich, moisturising skin repair that is safe and natural. We use peony from our certified organic peony root farm in Nelson, New Zealand.  All products are 100% natural and made locally in New Zealand.
This bundle contains:
Peony and Calendula Skin Remedy.  50ml glass jar. Use 2 - 3 times a day on red, itchy, irritated or inflamed patches of skin.
Happy Nappy. 50ml glass jar.  Use every nappy change to prevent and help heal any nappy rash.
Healing Body Bar. The soap alternative designed for sensitive and eczema prone skin.  Great for hand washing too after every nappy change!
All products are free of common allergens - no nasties, no nut products or lanolin, no perfumes, no parabens. Suitable for vegans.  100% natural.
Peony and Calendula Skin Remedy Ingredients:  Aqua, organic peony root, avocado oil, emulsifiers (cetearyl alcohol, cetearyl glucoside, cetearyl olivate, sorbitan olivate) cocoa butter, calendula flower extract, natural preservative Geogard 221.
Happy Nappy anti-rash cream Ingredients: peony extract, avocado oil, cocoa butter, emulsifiers, natural preservative and Zinc to create a barrier. 
Healing Body Bar Ingredients: vegetable oils, olive oil, sodium hydroxide, water, organic NZ peony root.