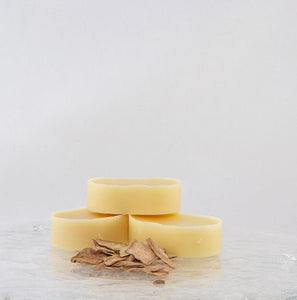 For those wanting to buy the conditioner bar in a 3 pack and save.
Designed to be used with our Healing Shampoo Bar to soothe your scalp and leave hair feeling clean and nourished. These 3 bars are plain wrapped together.  Each bar weighs approx. 40gms
"Miracle bar
This is beyond great. Hubby's hair has suffered due to an auto-immune disease but when he started using this, his hair looks healthier and growing thicker. My hair looks so shiny and healthier too." Maria H 20/5/19
Easy to use and each bar lasts most customers a month.  Rub conditioner bar over hair after you have shampooed hair, gently massage into scalp, and rinse.  Store bars where they can stay dry.
NO perfumes, scent or nasties - hypoallergenic and 100% natural ingredients.
Ingredients - NZ organic peony root, cocoa Butter,  BTMS 50 emulsifier, Cetyl Alcohol, Jojoba Oil, Provitamin B5, Hydrolised Silk Protein.