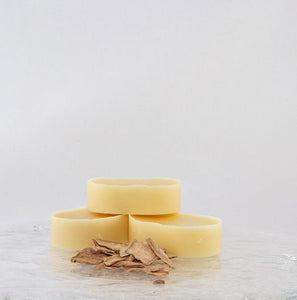 For those wanting to buy the conditioner bar in a 3 pack and save.
Designed to be used with our Healing Shampoo Bar to soothe your scalp and leave hair feeling clean and nourished.
Easy to use and each bar lasts most customers a month.  Rub conditioner bar over hair after you have shampooed hair, gently massage into scalp, and rinse.  Store bars where they can stay dry.
NO perfumes, scent or nasties - hypoallergenic and 100% natural ingredients.
Ingredients - NZ organic peony root, cocoa Butter,  BTMS 50 emulsifier, Cetyl Alcohol, Jojoba Oil, Provitamin B5, Hydrolised Silk Protein.