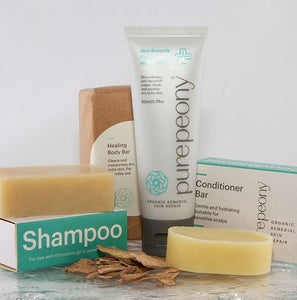 The Family Pure Peony Pack is a convenient and cost effective way to meet all your family's skin, hair and bathing needs.   Our organic remedial skin repair range will clean, moisturize, soothe and help heal dry itchy inflamed skin.  Ideal for eczema prone and problematic skin. 
This is a subscription - you can choose how often you commit to buying it throughout the year.  If you only wish to buy as and when you need it please choose the Family Pack
Each Family Pure Peony Pack contains:
3 pack of Pure Peony Healing Body Bars for everyday use to cleanse, soothe and moisturize the whole body
Healing Shampoo bar (large 90gm plain wrapped) to soothe the scalp and prevent irritation
Healing Hair conditioner bar in a tin to leave hair soft and light
Large 80ml tube High Factor Peony Root Skin Remedy cream to calm, stop itching and help heal dry, inflamed, red or irritated skin
All these products use the healing properties of paeoniflorin, the naturally occurring compound found in the roots of the peony plant, grown organically on our Nelson, New Zealand farm.  
100% natural.  Scientifically proven to reduce dryness and itchiness with anti-bacterial and skin calming properties.  Free from chemicals, perfumes and parabens.
Safe and suitable for everyday use by everyone in the family - from babies to those in their mature years. 
For best results on sensitive inflamed skin use Pure Peony sensitive crème on affected areas 2 - 3 times a day under clear. If possible, apply liberally at night and wrap in crepe bandage/tubi-grip. Re-apply at the first sign of irritation.  Replace body washes and shampoo with the Pure Peony Healing Body Bar and Pure Peony Healing Shampoo bar.
The products are made in Nelson and use our unique peony root extract from our BioGro certified organic farm.
This product comes with free shipping within New Zealand.