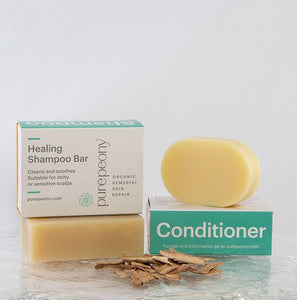 Very popular bars - good for your hair and the planet!  Won't leave hair dry or damaged.
Suitable for dry, itchy scalps and sensitive skin - our shampoo and conditioner bars will leave your hair clean and soft and calm your scalp.  Ideal for people with psoriasis or dandruff.
This is a subscription - you can choose how frequently throughout the year you wish to receive this pack.  One large 90gm shampoo bar (plain wrapped) and a conditioner bar (in a tin).  If you wish to purchase as and when you need it please use this link to the  Healing shampoo and conditioner Pack
"This is the first shampoo/conditioner in many years that has given me satisfaction and a calm scalp - no itchiness, and no dry skin scales and clumps…each application leaves my scalp happier and happier until now there is almost no irritation at all" Megan, Auckland
Easy to use and lasts most customers two months.  Rub shampoo bar over wet hair, lather and rinse.  Rub conditioner bar over hair, gently massage into scalp, and rinse.  Store both bars where they can stay dry.
NO perfumes, scent or nasties - hypoallergenic and 100% natural ingredients. Suitable for vegans.

Shampoo bar ingredients - vegetable oils, olive oil, castor oil, spring water, lye (sodium hydroxide) and organic NZ peony root.
Conditioner bar ingredients - NZ organic peony root, cocoa Butter,  BTMS 50 emulsifier, Cetyl Alcohol, Jojoba Oil, Provitamin B5, Hydrolised Silk Protein.