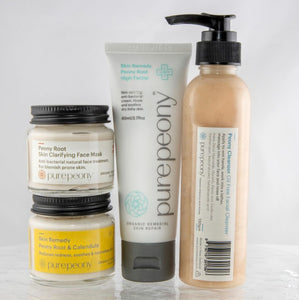 Treat acne fast and naturally.  This bundle is suitable for teenage acne, menopausal acne, rosacea acne and acne at whatever age!  Buy the bundle and save (items can be purchased individually).
Bundle contains:
Peony Cleanser - use the Cleanser at night on your face to remove impurities.  
High Factor Peony Root Skin Remedy 80ml sugarcane tube  - apply

 2 - 3 times a day 

to acne spots and any red or inflamed, irritated areas.    

Peony and Calendula Skin Remedy 50ml glass pot- apply to acne spots or redness at night after using the Peony Cleanser.  This is a heavier richer cream to apply at night.  It has the same strength peony root extract as the High Factor cream but has the added benefit of calendula too.
Skin Clarifying Face Mask - apply this cream at least once a week thickly to the face, leave for 5 - 7 minutes and wash off.  Anti-bacterial treatment that is easy to apply.  It has wonderful and natural scents of citrus (the bergamot and mandarin essential oils are great at minimizing any scarring).  
Follow this 4 step regime and treat acne fast and naturally.