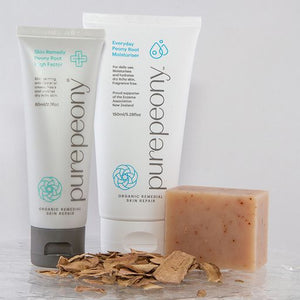 The 3 essential products to soothe, repair and maintain skin - naturally.  All suitable for face, eyelids, and for people young and old (including babies).
High Factor Peony Root Skin Remedy.  80ml sugarcane tube.  This is the treatment cream - reduces itching, redness and helps heal inflamed, irritated skin. Use 2- 3 times a day.
Everyday Peony Root Moisturiser.  150ml sugarcane tube.  This is the skin maintenance cream - use on dry skin and areas where the skin isn't currently inflamed.  This will reduce flareups.  Use daily (best after showering/washing).
Healing Body Bar.  Approx 100gm bar. This is the soap you can use!  100% natural, handmade in Nelson.
All our products contain the unique peony root extract from our BioGro Certified Organic Peony Farm (the only one in NZ!).  Scientifically proven and used for centuries in traditional medicine.   Anti-bacterial and skin calming - soothes and heals dry itchy skin.  Made in NZ.