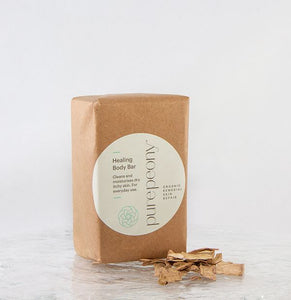 3 pack Healing Body Bars for sensitive, dry, itchy skin.  Cleans and moisturizes dry itchy skin and soothes irritated skin.  This is the 'soap' you can use even on sensitive, eczema prone skin.
Handmade in Nelson with organic Peony root. 
Use on dry skin to reduce dryness and on sensitive skin to help soothe and reduce redness.
Suitable for everyday use and for face, hands, body.  Safe for babies and people of all ages.
The 3 pack provides 3x 100gm soaps, plenty for the whole family to use at a discounted price.  Plain wrapped.
Ingredients: vegetable oils, olive oil, sodium hydroxide, water, organic NZ peony root.
Free from parabens and perfumes.  Suitable for vegans.  100% natural.