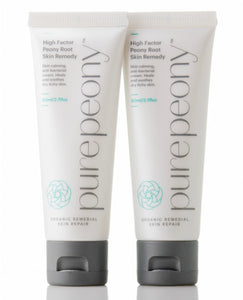 Do you love our cream? Buy it in a twin pack and save!
This pack includes 2x 80ml High Factor Peony Root Skin Remedy (previously called Pure Peony Sensitive Crème). We have had amazing success with this product on our children's eczema. We don't use steroid creams anymore and we have many customers who say the same thing. Give your skin a break from steroids that thin your skin and try this product now. You will be amazed by what we call
The Power of Peony!
The anti-inflammatory and anti-bacterial properties of the peony root have been used for centuries to assist the body's natural healing. This 100% natural, hypoallergenic creme will help soothe and heal sensitive, itchy and damaged skin. We make sure our products don't use any common allergens as they are free of nut products, lanolin and bee products. The difference about us is that we only use our own peony root we grow ourselves right here in Dovedale, Nelson, New Zealand. This product can be used at night applied under a crepe bandage to really benefit from the properties of the peony root.
Now in 80ml sugarcane tubes (recyclable)