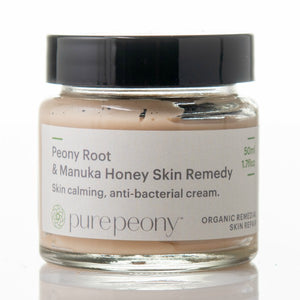 This is a subscription product which will be charged monthly automatically. 
Skin calming, anti-bacterial cream.  Heals and soothes dry itchy skin. Suitable for eczema prone skin and particularly useful for hands and feet that are exposed to a lot of bacteria.
This cream differs from the High Factor Peony Root Skin Remedy as it combines the traditional healing properties of Manuka Honey UMF10 with our White Peony Root extract.
Used to assist with healing lots of different skin conditions. We recommend it for any skin irritation, skin inflammation, nappy rash, sun burn, insect bites and stings, gardeners hands and general skin repair use. It is suitable for all skin types,face, hands and body. Contains bee products.
Comes in a recyclable/reusable 50ml glass pot.
Ingredients - aqua, organic peony root, avocado oil, UMF 10+ Manuka Honey, cocoa butter, emulsifiers (cetearyl alcohol, cetearyl glucoside), natural preservative GeoGuard 221.