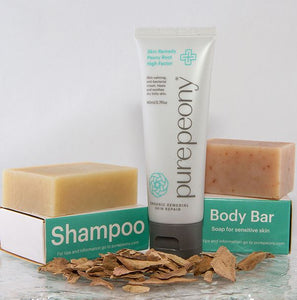 Look after your skin with our full range pack of Healing Shampoo Bar, Healing Body Bar and High Factor Peony Root Skin Remedy 80ml. The Healing Body Bar and Large Shampoo are for everyday use and the High Factor Peony Root Skin Remedy cream is a natural alternative to steroids for irritated and inflamed skin, eczema prone skin, psoriasis and rosacea. 
This pack will give you all you need to be confident your skin and hair will be calm and well nourished.  The natural active ingredient in peony root will stop itching, soothe and calm skin, promote natural healing,  leaving your skin calm and clean.
"Incredible stuff
This is the best product we've tried for our 1 year old who has severe eczema. I will be buying this regularly and recommend it to anyone who is thinking about giving this stuff a go. You won't regret it." James A 29/5/19
This pack contains : 1x 100gm Healing Body Bar in a box, 1x 90gm Large Healing Shampoo Bar, 1x 80ml recyclable sugarcane tube of High Factor Peony Root Skin Remedy cream 
Made in Nelson, New Zealand.  100% natural.  Organic NZ peony root.  Suitable for vegans.  Perfume free.