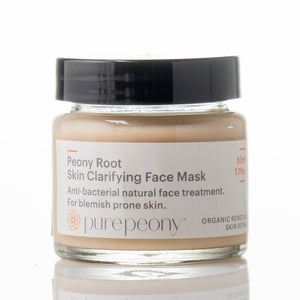 Clear your pores using Pure Peony Root Skin Clarifying Face Mask.
This natural face mask is an anti-bacterial natural face treatment and will brighten your skin with fresh and rejuvenating citrus oils.  Suitable for blemish prone skin, healing acne, pimples and reducing redness and damaged skin.
No harsh chemicals. 100% natural.  Not tested on animals. Suitable for vegans.
Comes in a 50ml recyclable/reusable glass pot.  
Ingredients: healing properties of New Zealand organically grown White Peony Root, essential oils of bergamot and mandarin, Aqua, avocado oil, cocoa butter, emulsifiers and natural preservative GeoGuard.
Easy to use.  Apply generously to face. Leave for 5 - 7 minutes. Rinse with warm water.