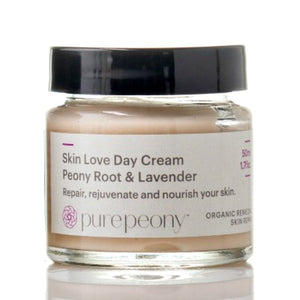 Pure Peony Skin Love is a day cream for the whole body.  It is scented with lavender oils and  contains our Peony extract to leave your skin fresh and rejuvenated. This makes a gorgeous gift.
Peonies are arguably one of the world's most beautiful flowers, but their roots are truly miraculous. Pure Peony combines science and the powerful ingredients of the Peony root to repair, rejuvenate and nourish your skin.  
Peony root and lavender have been used for centuries in traditional herbal medicine for their anti-inflammatory, antiseptic and anti-bacterial properties.
The 50mls of Skin Love Day Cream comes in a recyclable glass pot to enable ease of use.
100% natural, using organically grown peony root from our farm in Nelson, New Zealand.
"I love that it is NZ made and made from natural ingredients. The day moisturiser lasts all day on my aging skin" Karen 17/5/18.
Ingredients: Aqua, organic peony root, avocado oil, cocoa butter, emulsifiers (cetearyl alcohol, cetearyl glucoside), lavender essential oil, natural preservative GeoGuard 221.