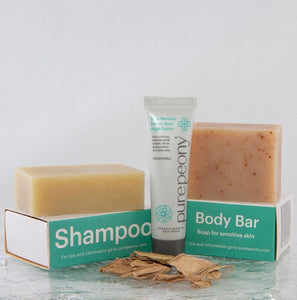 The perfect starter pack for sensitive skin to stop itchiness, reduce inflammation and redness and treat your skin and hair well.  Best way to try the Pure Peony range.  
This pack includes:
1 x Pure Peony 90gm Shampoo Bar - use regularly
1 x Pure Peony 100gm Healing Body Wash Bar - use every day to clean face and body
1 x Pure Peony 20ml High Factor Peony Root Skin Remedy cream in a sugarcane tube - to treat specific areas
What will Pure Peony do for me?
Reduces itchiness from dry skin
Calms inflammed red skin
Nourishes and helps heal damaged skin
Leaves hair clean and fresh without chemicals
Check out what customers are saying about these three products below:
Glenda
–
April 1, 2017 
"I have been using the Shampoo Bar now for 4 months, what an improvement in my hair, no more psoriasis on my scalp & it leaves my hair soft, no more need to use harsh shampoo or conditioner. Highly recommend"
Kirstie
- August 2015
"Hi I recently purchased some of your Pure Peony Sensitive Creme product for my son who is 17 and has battled with eczema his whole life, he refused to use any cream from the doctor so its been an on going battle, how ever he simply LOVES your product I am thrilled! it works amazingly thank you so much!"
El
- February 2017
"This soap is amazing! It soothes my eczema and does wonders for my very sensitive skin. It has even decreased the number of eczema flare ups I have."
Product Ingredients:
Body Bar Ingredients:
Vegetable Oils, Olive Oil, Sodium Hydroxide, Water, Powdered New Zealand Peony Root.
Cream Ingredients:
Aqua, paeony lactiflora pal, avocado oil, cocoa butter, GeoGuard 221 Natural Preservative (Cetearyl alcohol, cetearyl glucoside, dehydroacetic acid and benzyl alcohol)
Shampoo Ingredients:
Vegetable Oils, Olive Oil, Castor Oil, Spring water, sodium hydroxide and Organic Peony Root.